Is your city a European one?
2011-05-09 18:06:36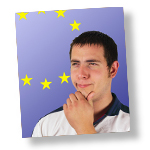 Since today, Europe Day, a new tool is given to cities in order to promote their municipality European identity and to cooperate with other cities and civil society organizations through all Europe.
Supported by the "Europe for Citizens" programme, the project "My European City" aims at highlighting the European influences of cities such as street name, architectural style, through thematic guiding tours, documents and discovering trails. The website, available in English, French, Italian, Polish and Romanian will enable cities to virtually visit other municipalities.
This network seems extremely relevant for cities looking for twinning, or eager to promote themselves or their twinned partners.
The organisations involved in the launch of this initiative, which is supported by the European Commission "Europe for Citizens" programme, are Graine d'Europe (Nantes, France), Mioritics (Sibiu, Romania), Xena (Padua, Italy) and Polites (Szczecin, Poland).