European Swimming Day: take the plunge!
2011-05-12 18:26:19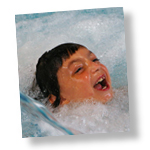 European cities and municipalities with a swimming pool are encouraged to open it to the public on 1 June 2011, at the occasion of the International Children´s Day, with the aim of organising a swimming competition.
Indeed, the European Swimming Day is an initiative launched by the Czech Olympic Committee and the City of Vysoké Mýto, so as to promote children's sport activities via swimming.
The Union of Towns and Municipalities of the Czech Republic fully supports this event and encourages local autorities to participate in this initiative, as it presents a good opportunity to promote Europe amongst the younger generations.