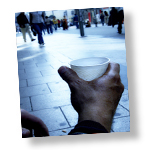 The cities of The Hague (Netherlands) and Warsaw (Poland) have been twinned since 1991. For over two years, they have pursued a joint project to provide care for drug abusers and the homeless. This was based on exchanges of experiences through seminars and working meetings.
The main theme dealt with cooperation between nongovernmental organisations active in this field, and the local authorities. The participants also discussed a range of matters such as the role of the police, psychiatric issues, the organisation of administrative services, training, etc.
In April 2005, an agreement was signed between the NGO partners of the two cities, with the support of the municipal services. In 2007, the first training courses got underway.