Four town twinning projects worth their weight in gold!
2009-12-21 11:22:34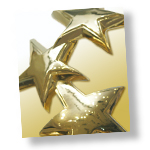 The European Commission awarded four town twinning projects with the 'Golden Stars of active European citizenship in a ceremony taking place in Brussels the 16 December 2009.
Rewarded municipalities included.Gyomaendrod (Hungary) that organised with partners from Romania, Germany, Poland and Slovakia a series of events related to women's participation in political life. A conference was held which provided an opportunity to share experiences and exchange ideas on how to overcome possible obstacles women face in their political career.
The selection jury members included the secretary general of the Council of European Municipalities and Regions (CEMR) Jeremy Smith.
The ceremony was preceded by a conference organised by the European Union. It provided an opportunity to debate the issue of civic participation through volunteering and the difference it can make in Europe. The president of the town twinning group of the Council of European Municipalities and Regions and mayor of Oswiecim, Janusz Marszalek, participated in the debate.
This conference, which brought together practitioners, policy makers and academics, marked the beginning of the mobilisation of citizens towards the European Year of Voluntary Activities Promoting Active Citizenship 2011.