1989-2009: what role for twinning 20 years after the fall of the iron curtain? The example of Aalborg (DK) and Riga (LV)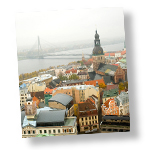 In 2009, we are celebrating the 20th anniversary of the decision taken by the European Parliament to create a new community programme dedicated to twinning. This important decision has made it possible for many European citizens to meet and get to know each other better, especially during the different steps of the EU enlargement.
During the 24th General Assembly of CEMR, which took place from 22nd to 24th April 2009 in Malmö (Sweden), a special session was dedicated to this 20st anniversary and to the role of twinning in Europe today.
On this occasion, the twinning link set up in 1989 between Aalborg (DK) and Riga (LV) was presented as a good example of a partnership which was able to evolve over time to keep peace with the needs of their citizens.
Nils Bell, Vice-Mayor of Aalborg, presented to the participants the keys of success of this twinning, which has been based above all on an equal relationship at a time when Latvia was opening to Europe: « in different fields of competence, Riga experienced numerous changes at a very fast pace, and today shares its experience on an equal footing with Aalborg», said Mr Bell.
The twinning link between Aalborg and Riga developed in different areas of action, following the needs and expectations of the 2 towns' local communities, which has included, for example, education, town planning, public services or arts and culture, with an exchange project between music schools together with another o Aalborg's twin towns, Galway (IE). The various activities organised through this twinning have been at several times co-financed by the European Commission within the EU twinning programme created in 1989.
Today, 20 years after, twinning remains a unique way for citizens to have exchanges beyond the borders and to have an experience of Europe. The European twinning movement has to continue evolving in order to meet the European citizens' needs and expectations as much as possible (CEMR and its national associations are currently carrying out a reflection on this matter). The twinning link between Aalborg and Riga appears to be a good demonstration of a successful evolution.
Website of the city of Aalborg
CEMR's final Declaration and Resolution adopted in Malmö