Town twinning: questions on the new guide on how to get EU funding
2009-02-16 18:56:33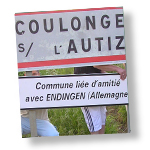 On 20 January 2009, the European Commission's DG Education and Culture organised an information day on the Europe for citizens programme guide. The Commission's financial support to town twinning is in the framework of Europe for citizens, and the programme guide helps applicants seeking EU funding for their project. John Atkins, of the European Commission's executive Agency for Education and Culture, answers our questions on the new programme guide.
In a few words, what is new compared with the previous programme guide?
There are a number of important changes, in fact too many to list here. In a nutshell, they can be summarised in three points:
To provide clarification on points that were not so clear in the previous version of the guide,

To simplify some of our procedures and processes,

To try to make what is a lengthy document more user-friendly.
What are the main errors local authorities should avoid when applying for EU support?
Some time ago we carried out an analysis of the main administrative errors made by applicants, and for local authorities we found repeatedly that the failure to submit proof of the VAT registration number declared on their legal entity form was a problem. It is important because all entities receiving an EU subvention have to have their formal legal details validated by the European Commission services and this includes VAT registration. If these details are not correctly submitted, this can create problems. When it comes to the content of their project applications we would recommend all applicants to look closely at the programme guide which explains the criteria used to award grants and against which applications are evaluated.
What would you say would constitute a very good project then?
We try to give some advice in the programme guide on this point. For example concerning citizens' meetings we suggest applicants pay attention to the objectives of the Programme, its priority themes and the concept of citizens' meetings. Good projects will have a clear and detailed presentation of the meeting programme, explaining what will happen, what the role of the participants will be and what they will learn. We very much encourage an active role for the participants including the local community. Finally it is important to explain which kind of publicity and other visibility the meeting will get.
How could a local authority from a non EU Member State know whether it is eligible to financial support, where can one find such information?
The case of applicants from non EU Member States is different. broadly speaking, it all depends whether their country has signed a bilateral agreement with the EU. Probably, the best thing would be to visit the website of DG Education and Culture of the European Commission; it has a page on participating countries
DG Education and Culture and the Executive agency's websites provide lots of useful information, but often users find it difficult to find their way through their website and prefer talking to a human being; who would you suggest could help them find information?
Europe for Citizens Points are being established in countries eligible to participate in the Europe for citizens programme. Part of their remit is to answer questions and information requests from potential applicants to the programme and their details can be found on the website of DG Education and Culture. Additionally national and European organisations, such as the Council of European Municipalities and Regions (CEMR), which play a role in promoting town twinning can be of great assistance given their many years of accumulated experience. If I can give a plug to your own website, it has a very useful list of contacts! (note: John Atkins refers to the list of twinning coordinators available on the twinning page of CEMR's website).
The Europe for citizens programme guide (in 23 languages)
Presentation of the changes made to the programme guide, at the 20 Januar 2009 conference.